..

. one of our hobby´s is: to create in a moonshine-night a lot of magic potions ... and here is a recipe of one of them:

12-15 Litres of MET (or Honeywine)

take: 3,5 Kg Honey , 7 Litres of Water, 10 Gr Flour, 1 small bottle of Wine yeast, 4 Yeast power pills

1 litre Apple Juice (100 %), 10 Ml Milk Acid (80 %) and a 15 litre fermenting bottle with fastener ...

(available from household stores)

Heat the water to 30-40°C (beware because if its heated to over 50°C the aroma of the honey is lost). In a separate dish stir the honey until it is dissolved in the warm water. This mixture now goes into the fermenting bottle and if the fluid reaches room temperature you must add the liquid yeast. Stir the flour in a cup and when it is creamy add it to the fermenting bottle. Stir a little of the apple juice in a cup with the milk acid and the pulverised yeast pills then add this mixture to the bottle with the remainder of the apple juice. Close the bottle and fasten with a fermenting fastener. Check the water in the fastener, according to instructions. Keep the bottle for for 2- 4 month (or until the end of the fermenting process!!) under constant conditions and when the fermenting process is over you will have 12 - 15 litres of wounderfull MET (or honeywine)

C H E E R S ! ! ! (a bottle-label can you find here.)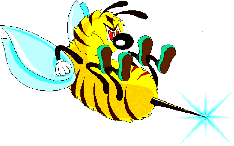 p.s.:by harvest of honey be carefull.... the bees dont like your doing....